Information Technology Services (ITS)
ITS staff receives Simcoe Hall Vice-President Award
Published on: July 20, 2022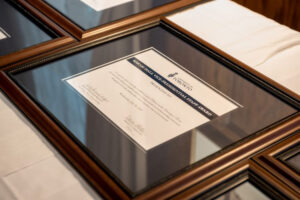 Given annually since 2013, the Simcoe Hall Vice-Presidential (SVP) Staff Award recognizes outstanding contributions by staff who work in service of the President's Office, the Division of the Vice-President & Provost, a Vice-Presidential Division or the Office of the Governing Council. This year, we are pleased to report that ITS's own Peter Sverko has been recognized.
Recipients of the SVP Staff Award demonstrate outstanding leadership in advancing the University of Toronto's mission and/or exceptional service to enhance the University experience for students, faculty, librarians and/or staff.
Peter Sverko, Meeting Room Technology Coordinator, Enterprise Applications & Solutions Integration, was nominated for his integral work over the course of the pandemic that contributed to the success of institutional initiatives and inspired his colleagues.
"Congratulations to Peter on receiving this well-deserved honour," says Gary Raposo, Assistant Director, Enterprise Shared Services, EASI. "His technical support and innovation as we transitioned to remote and hybrid workplaces have been invaluable and allowed the University community to remain connected and engaged."
During the adjudication process, the SVP Awards Selection Committee also noted Peter's role in enabling the University's senior leadership to continue to function largely without disruption at a time when many other institutions were struggling to cope with the rapidly changing situation.
"Your excellent contributions through the pandemic are appreciated," says Bo Wandschneider, CIO. "Thank you for your ongoing support of the University's academic mission and for keeping the ITS values at the core of your work."
To learn more and view the full list of 2022 SVP Staff Awards recipients, see the official announcement.