Information Technology Services (ITS)
Congratulations to ITS staff: VPOREP annual award winners 2022
Published on: August 26, 2022
On Aug. 24, the seventh annual Operations & Real Estate Partnerships (OREP) Awards celebration and BBQ was held to recognize exceptional University of Toronto staff contributions, unit successes and the entire Operations portfolio.
More than 600 University of Toronto staff gathered in the Sir Daniel Wilson quad to celebrate their peers and the University's growth over the past year. Among the dozens of award recipients were many ITS staff members and project teams!
Congratulations to all ITS award winners:
The OREP Impact Award
Individuals or teams who, above and beyond their regular roles and responsibilities, have developed, revised or implemented a system, tool, process, initiative or program, which concluded in the last calendar year, that had a positive impact within their unit or portfolio or across the University.
Impact Award Winners (Individual)
Pascal Loucadellis, Client Care Services Manager, EASI, ITS
Pascal's immediate responsibilities centre around the support of the executives at Simcoe Hall, however he has also been the primary contact for all the digital workplace (DW) client groups facilitating device receipt and distribution from a central location. In addition, Pascal designed the new DW desk standard and workstation equipment guide for the digital buildings as he helped plan for our clients' physical relocation to the Fitzgerald building in the fall. Finally, Pascal coordinated IT support and setup for the new Vaccine Centre at the McCaul Exam Centre. With Pascal's leadership at Simcoe Hall there has been a vast improvement and level of satisfaction among our clients.
Luke Sutherland, Business & Project Analyst, Information Security, ITS
Luke's work has positively transformed how service is delivered, while creating efficiencies, instilling innovation, and decreasing organizational risk. More specifically he has: Transformed project delivery while creating efficiencies and enhancing productivity; created a valuable experience for the Information Security team to instil innovation and collaboration and decreased organizational risk by actively working with the U of T community to address security vulnerabilities.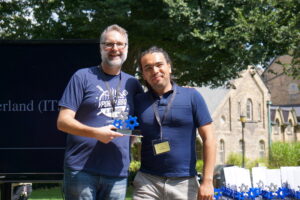 Impact Award Winners (Team)
Addressing Log4j Vulnerability Team
On December 9, 2021, a new high risk security vulnerability called Log4j was uncovered. Given the severity of the risk, the Information Security team mobilized the community in a different way by creating several communications channels, where everybody involved in the effort could collaborate and share their ideas, latest developments and threat intelligence on how this vulnerability could have impacted their own environments. The community was actively solicited to participate and the input from all involved was essential to get a sense of the overall organizational risk and what we were collectively doing to address it.
Carl Chan, Information Security Supervisor, ITS
Michael Buzny, Incident Response Security Analyst, ITS
David Auclair, Information Security Architect, CanSSOC, ITS
Frank Boshoff, Assistant Director, Tech Solutions & Arch, ITS
Andrew Wagg, Manager, Incident Response, ITS
Sue McGlashan, Information Security Architect, ITS
REDCap Team
Collaborating very closely with KPE and the Centre for Research & Innovation Support, this interdisciplinary team from ITS developed and implemented an enterprise Research Electronic Data Capture (REDCap) online survey service, which has been used by over 1,300 researchers so far. Beyond launching and managing a successful new service, this award is being presented because for the first time at the University, an enterprise service was created and is managed in a fully cooperative venture with an academic division (KPE) and another shared division (CRIS/VPRI).
Jeremy Graham, Senior Manager, Operations, ITS
Alex Nishri, Manager, Systems Operations, ITS
Joseph Lam, Network Administrator, ITS
Sue McGlashan, Information Security Architect, ITS
Jae Chung, Senior Manager, Systems & Solutions, ITS
Siqi (Tim) Zheng, Business Systems Analyst Client Support, ITS
Amar Dholakia, Business Systems Analyst Client Support, ITS
Vince Borghese, Manager, Client Success & Service Delivery, ITS
YongJoo Lee, Network Services UNIX Systems Programmer, ITS
Bryan Ekeh, BI Developer, VPRI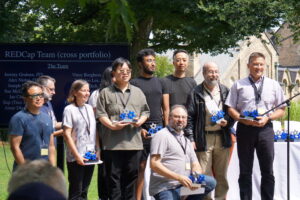 New Compensation Planning Tool Team
This award is for the successful development and implementation of the new Compensation Planning Tool (CPT) which was a joint project between Planning & Budget and ITS. While a third-party tool showed great promise during the evaluation, a substantial amount of effort was then required over the following years by the University and the supplier to modify and further develop the tool to meet the requirements of the University. Recognizing that a new tool was still urgently required by the University community, the CPT project group pivoted to focus on a redevelopment and expansion of the existing legacy B6 tool. Over the course of the summer 2021, the development team worked to expand out the legacy tool into the new CPT. Through their initiative, creative thinking, and hard work, they managed to meet all the key requirements for the new tool such as multi-year planning, salary increase funding planning and extension of the tool to include non-appointed groups over an extremely compressed timeline.
John Ogg, Assistant Director, Application Dev FIS, ITS
Kim Chan, Information Technology Analyst, ITS
Vaishnavi Varadarajan, Information Technology Analyst, ITS
Dana Pogaceanu, Business Analyst, User Experience Designer, ITS
Katie Babcock, Senior Communications Officer, ITS
Legacy Email Decommissioning Team
UTORMail posed a significant security risk to the University due to the issues associated with aging infrastructure and dated software. With a six-month timeline, this team worked diligently to decommission the legacy email system UTORMail. The team worked to move active users to new services while minimizing disruption to their email access. A support hotline and helpdesk were set up to resolve account issues and we answered over 1,200 ticket enquiries. Partnering with DUA, they created a new Office 365 email offering for the alumni community. Working with Student Life, they reimagined their engagement with student organizations by establishing new email domain for their communications needs.
Vicki Vokas, Senior Manager Client Services, ITS
Natalie Yeung, Digital Workplace Specialist, ITS
Hong Zhu, Network Services Collaboration & Messaging Specialist, ITS
Ian Thomas, Manager, MS Cloud Architecture, ITS
Gerald Lindo, Project Manager, ITS
Kathleen McLeod, Senior Services Engagement Coordinator, ITS
Vince Borghese, Manager, Client Success & Service Delivery, ITS
Peter Ip, Network Service Unix Programming, ITS
Planning and Re-Entry Advisory Group Team
In June 2020 during the height of the COVID-19 pandemic, the Planning and Re-Entry Advisory Group was established as the cross-portfolio "GO-GO-GO" operations team to bring our students, staff, researchers, and faculty back to our campuses safely and gradually. Throughout the various waves of the pandemic, the team was nothing but agile – pivoting several times to plan and guide the implementation of initiatives such as the UCheck health screening tool, proof of vaccination module, rapid antigen screening program, pop-up vaccine clinics and wastewater monitoring in residences program.
Cathy Eberts, Director, EASI & Deputy CIO, ITS
Farah Ally, Project Manager, ITS
SAP Plant Team
In the spring of 2022, a cross-portfolio team from Facilities & Services and EASI as well as supporting members from Human Resources successfully implemented a series of SAP-based applications that transformed the asset and management maintenance processes using an integrated digital ecosystem. This implementation supported F&S in improving stewardship of campus buildings, grounds, and utility assets through mobile work order management, a central repository of equipment data, automatic scheduling of maintenance, management reporting, and more. The team has laid the groundwork for moving towards a more preventive maintenance model and in the future – exciting data-driven predictive maintenance. This system will manage all F&S service requests, maintenance processes, and asset management.
Andrey Pletnev, Information Technology Analyst, ITS
Derek Liu, Client Support Analyst, ITS
Fabio Gorgatti, Security Administrator, ITS
John Ogg, Assistant Director, Application Dev FIS, ITS
Paul Littlefield, Manager, Security Administration & Architecture, ITS
Praveen Narayanaswamy, Technical Solutions Architect & Coordinator, ITS
Verono Kwok, Senior Information Technology Analyst, ITS
Distinguished Service Award
Presented to an employee with more than 15 years of service at the University who has made outstanding contributions that go beyond the ordinary fulfillment of the position's duties.
Carl Chan, Information Security Supervisor, ITS
Carl Chan is an outstanding member of the Information Security Team and has progressively worked in multiple roles spanning more than 15 years across the University of Toronto. Carl demonstrated strong leadership to accelerate adoption of security capability needed to address immediate and critical risks; significantly reduced the risk for the university through strong collaboration with the community; and transformed incident response capabilities through coaching and relationship-building.
See a full list of the 2022 VPOREP Award winners from across the University: https://vporep.utoronto.ca/congratulations-to-our-vporep-annual-award-winners-2022/.