Information Technology Services (ITS)
IT@UofT People — Ashley Langille
Published on: November 29, 2021
The backbone of any successful team is its hard-working people. The University of Toronto's Information Technology Services (ITS) unit is no exception. It is made up of a diverse range of people with an even greater diversity in their interests and talents.
In this segment, entitled "IT@UofT People," we will get to know our IT@UofT team across the tri-campus community and find out more about their hidden or not-so-hidden talents and/or pursuits outside of work.
————————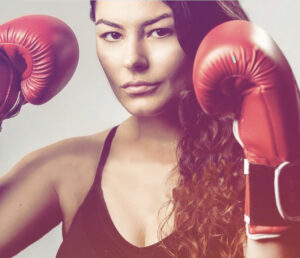 Name: Ashley Langille
Department: Information Security
Title: Information Privacy Analyst
How long have you worked at U of T?
It honestly always feels like not very long, so I always have to check! According to Employee Self-Service, I started in 2015 — six years!
What are your secret or not-so-secret talents and hobbies outside of work?
I am very into interior design and sourcing vintage pieces (art, furniture etc.) which is probably not secret now that most of our homes have been on display during Teams and Zoom meetings. But, what mostly no one knows about me is I am licensed amateur boxer, which means I am eligible to compete in any competition at an amateur level world-wide.
How and why did you get involved in this hobby?
I was very out of shape over the holidays in 2018 to a point where I didn't feel like myself anymore. I have always been a fan of boxing and its complexity, so I threw myself into it in 2019.
I decided to try out for a fight camp, which comprised of two weeks of intense physical tryout sessions. The selected individuals would be showcased in an event for charity after completing a four-month training camp. This is not the usual avenue for an amateur boxer debut. It was a very professional-style boxing event that was viewed by approximately 3,000 audience members, so I really felt the pressure fighting for the first time.
When/how did your interest in this area begin?
Other than just watching boxing since I was young, my interest grew when my partner introduced me to Muay Thai. He is a former professional athlete who didn't particularly like the traditional gym routines to stay fit in the off-season. I started learning Muay Thai and really enjoyed the intense workouts.
Do you have any professional training in this field?
For about six months, I trained out of the same gym that Lennox Lewis used to train out of, then picked up some additional one-on-one training sessions with the former Canadian female super featherweight world champion, Sandy T. I was secretly a big fan of hers, so it was pretty exciting for me… until she hit me in the face for not keeping my hands up. Then I quickly realized why she is often compared to Mike Tyson.
Who/what are your inspirations?
There are so many great fighters out there it would be hard to pinpoint.
Anything else you would like to add?
Unfortunately, I didn't get to complete in my first scheduled fight at the event. Three weeks before my big debut I broke my wrist in eight places while on vacation in Alaska (pause for dramatic gasps). I'm hoping to get clearance from doctors shortly and get myself back into the ring!
The worst part about the whole experience is the diet, you feel like a small bunny rabbit on limited rations.