Information Technology Services (ITS)
ITS launches improved website home page
Published on: December 12, 2019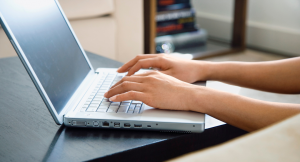 Information Technology Services (ITS) launched a newly redesigned website home page on Dec. 2, 2019.
Featuring a fresh, revitalized look, the home page is easy to navigate with an interactive, intuitive design. It is improving access to ITS services and information for the University of Toronto (U of T) community, including staff, students and faculty.
New features include a prominent news carousel highlighting top stories, a banner showcasing the status of ITS system alerts, integrated social media feeds. It also features easy-to-access buttons for navigating to pages like the Enterprise Service Centre, phish bowl, CIO blog and more.
"The IT@UofT Strategic Plan focuses on the outstanding work and collaboration of the people who support the tri-campus University community through effective technological solutions," said Chief Information Office (CIO) Bo Wandschneider. "Our new ITS website home page is just one of the ways we are showcasing this mission to improve the day-to-day activities of everyone who relies on our service and expertise."
Visitors to the new website home page will be able to view regularly updated news, promotional campaigns, engaging events, maintenance announcements and other important ITS-related information.
The redesign also included a recharged CIO page. Stay tuned for a brand new Chief Information Security Officer (CISO) page and more updates coming soon.