Information Technology Services (ITS)
ITS contributes to EDUCAUSE Data and Analytics report
Published on: July 26, 2022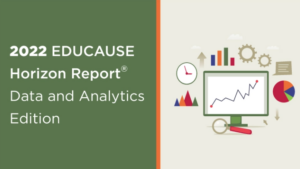 The EDUCAUSE Horizon Report: Data and Analytics edition was recently published, in which data and analytics are recognized for their extraordinary and increasing significance for the future of higher education institutions.
The 2022 Horizon panel, who provided their perspectives and expertise in higher education data and analytics, was comprised of 49 experts from around the globe including ITS' Marden Paul, Director Planning, Governance & Assessment.
"Institutions create and collect so much data from so many domains – research, learning, learning analytics, business and administrative systems and countless sensors, notwithstanding all the data sets available around the world," explains Paul. "Our capacity to create and collect data is accelerating. As computer capabilities increase, the ability to analyze these data sets and to extract meaningful data presents exciting opportunities."
This report expands on the Horizon Reports series to focus on an emerging area of practice that is driving institutional decision-making and strategic planning for the future — the trends, technologies, and practices that are shaping the world of postsecondary data and analytics. The report summarizes the panel's input on the major trends shaping higher education, including reflections on the implications of this research for the future of higher education for institutional roles.
Paul continues, "Stewarding and using these data is a challenge too, and the Horizon report dives into these aspects of data and analytics. It was another great experience working through the report development process with peers from around the globe and I'm grateful for the opportunity to contribute."
Learn more or download the full report (PDF) to learn, plan and act on all that is influencing higher education data and analytics — now and in the future.