Information Technology Services (ITS)
Vikram Chadalawada appointed Chair of the University Affairs Board
Published on: November 22, 2021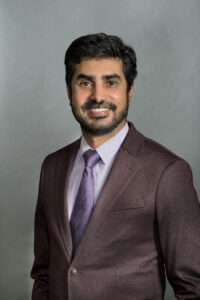 Vikram Chadalawada, Senior Manager, Student Information Systems, Enterprise Applications and Solutions Integration (EASI) and IT@UofT Strategic Plan Delivery Lead, Information Technology Services (ITS), has been appointed Chair of the University Affairs Board within the University of Toronto's (U of T) Governing Council. This is an outstanding accomplishment for Vikram, and it marks the first time an ITS staff member has been appointed to the Chair position at this level.
The University Affairs Board has been active since 1972 and is one of the three boards of the Governing Council. The Board meets six times per year and is responsible for considering policies of non-academic nature and matters that directly concern the quality of student and campus life.
Vikram's role within the University Affairs Board is to work closely with the Vice Provost and other key members of that office and to chair the board's governance cycles while encouraging meaningful dialogue within the council. Within each cycle, he facilitates discussion on a myriad of student-facing issues including, but not limited to, Policy on Sexual Violence and Sexual Harassment, mental health and mandated leaves of absence. He also helps the board make decisions and approve important policies pertaining to student and campus life at U of T.
"As an emerging leader within the domain of governance, I truly believe that providing a safe space for governors and members of various constituencies within the Governing Council to help voice their opinions and bring critical student and staff issues to the forefront should become a big priority for every leader within the community," said Vikram. "We are currently facing extremely challenging times and this calls for a deep empathy backed by strong governance."
In addition to the Chair, 28 additional members sit on the University Affairs Board which includes mostly internal members including administrative staff, students and teaching staff.
Vikram's term as Chair runs from July 1, 2021 to July 30, 2024. To prepare for this role, he served on the University Affairs board representing the administrative staff constituency for three years. Currently, Vikram is also on the executive committee, as a non-voting member, as a result of his Chair status, and is also a governor with voting rights on the Governing Council.
The ITS community is proud to have representation on this prestigious platform and is excited to see all the important policies approved by the board under Vikram's chairmanship.