Information Technology Services (ITS)
Telecommunications explores calling integration in Microsoft Teams
Published on: April 18, 2022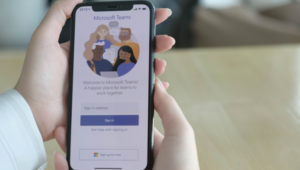 The Telecommunications team within Enterprise Infrastructure Solutions (EIS) recently completed a pilot project to test the feasibility of integrating phone calling capabilities in Microsoft Teams, including the ability to make both internal and external phone calls and to use call forwarding.
The pilot included more than 30 University of Toronto (U of T) staff, who tested these features from June to December 2021. Next steps will include creating a new pricing model, developing a communications plan and assigning a project manager who will work with the Telecommunications team to develop a migration timeline and action plan.
The pilot proved to be very successful and earned some great feedback from participants. Find out what your colleagues had to say about their experience.
"Overall, Microsoft Teams voice/video calling is an integral tool for our team that has advanced us to a whole new level when communicating with ourselves, clients or stakeholders." – Issam Mikdashi, Infrastructure Technology Delivery Lead, Information and Instructional Technology, Faculty of Arts and Science
"I was very pleased with my Microsoft Teams calling experiences during the recent pilot. As a phone, all the important features were there and worked perfectly for me. In addition to that, the integration of phone services with the rest of our Microsoft 365 (M365) productivity suite made this solution very attractive. Especially during the pandemic, as I moved from one work location to another, my work phone came with me along with the rest of the M365 suite. Whether I was at my computer, moving around with a tablet or just on my mobile phone, the experience was flexible. The assistance of the Telecommunications team made it even better; they are a great crew to work with." – Avi Hyman, Director, Academic & Collaborative Technologies
"I work alongside Telecommunications and have been at U of T Scarborough (UTSC) for a few years. I was able to test Microsoft Teams calling integration over the course of a few months and it has proven to be user-friendly and versatile for most users with simplistic call set-ups. It is a very useful integration that would streamline the use of applications that are commonly used on a daily basis within our U of T community." – Cassie Zyhar, Administrative Assistant, Information & Instructional Technology Services, UTSC