Information Technology Services (ITS)
Successful eToken migration to UTORMFA
Published on: December 10, 2021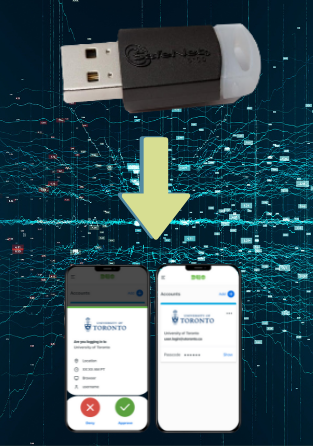 The University of Toronto's (U of T) Information Security team is proud to announce that the eToken migration for high security applications was successfully completed. On Nov. 27, 2021, members of the tri-campus UTORMFA project teams came together to support this important change.
As a result, all applications requiring AdminVPN login, including Administrative Management System (AMS), Repository of Student Information (ROSI), ROSI Files, Rocket Shuttle, StarRez and Unit VPNs can now authenticate through UTORMFA. By adopting UTORMFA across all logins, users can take advantage of a single and consistent MFA experience.
"This migration continues our demonstratable success on delivering an innovative security program that continually delivers an improved user experience, while increasing the trust and resiliency of our data and systems," says Isaac Straley, Chief Information Security Officer at U of T.
Before the migration, eToken was a major business tool used by over 5,500 users. A smooth transition was essential to this project's success. Despite the migration's scope and impact, the Information Security team only received minimal support requests.
On the morning of Monday, Nov. 29, 1,500 users were concurrently connected to the new admin.vpn.utoronto.ca. This represented a surplus of approximately 50 connections compared to Monday, Nov. 22.
eTokens will be fully retired on February 28, 2022. We request that all eTokens be collected by local IT administrators and returned to Information Security for secure disposal. Stay tuned for details about the collection process in the new year.
The migration team would like to thank all the local IT administrators and end users for their patience and invaluable support.
For more information about UTORMFA visit https://isea.utoronto.ca/services/utormfa/.
If you have questions about the eToken migration or require assistance, please contact your local IT administrator or your campus help desk:
Thanks again to everyone involved in this project!