Information Technology Services (ITS)
New ITS strategic plan to guide the future of tech at U of T
Published on: June 10, 2019
Technology is a key differentiator within higher education. Increased access to education, adapting new methods of teaching and learning, enhancing access to digital research infrastructure and enabling secure online environments are just a few of the ways technological advances have increased productivity and success in intuitions.
Now, for the first time at the University of Toronto (U of T), there is a blueprint to help guide information technology and ensure that local decision-making enhances the University experience for everyone – from students and faculty to staff and partners.
That guide is the IT@UofT Strategic Plan, which sets the framework for Information Technology Services (ITS) and the tri-campus IT@UofT community for the next five years.
"The community is ready to drive change. This was a critical step for us," said U of T Chief Information Officer (CIO) Bo Wandschneider, who presented the plan during a May 3 launch session at the UnITe 2019 conference, held at the St. George campus.
The plan was developed following a year-long strategic planning process guided by a steering committee, which began in summer 2018. More than 650 staff, students and faculty across the three campuses as well as partners were engaged. Some of these participants are featured in a new launch video, which celebrates the extraordinary talents of people across all three campuses and multiple departments. The video also outlines the projects and technological solutions recently developed by ITS.
"I participated in a community consultation and it was a really inclusive, thorough process," said Adon Irani, educational technology supervisor for the Centre for Teaching and Learning, University of Toronto Scarborough (UTSC). "We were able to come together with our colleagues from across the campus and not just find out what's been happening and hear from our new CIO, but have our say, have our voice heard."
A foundational focus of the plan is its three thematic pillars: people, solutions and collaboration. These pillars will drive the development of further plans within ITS. For instance, the solutions pillar is aimed at improving day-to-day activities, including the digitation of core administrative systems, empowering educators through access to transformative teaching apps and creating a culture of evidence-based (data driven) decision-making.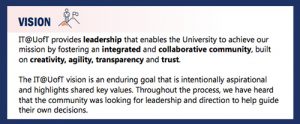 Vision: IT@UofT provides leadership that enables the University to achieve our mission by fostering an integrated and collaborative community, built on creativity, agility, transparency and trust. The IT@Uoft vision is an enduring goal that is intentionally aspirational and highlights shared key values. Throughout the process, we have heard that the community was looking for leadership and direction to help guide their own decisions.
"It couldn't be a better time to be involved in information technology," said Cathy Eberts, executive director of Enterprise Applications and Solutions Integration, ITS. "I haven't seen this kind of hype since Y2K. The number of advances that are coming out in information technology are just outstanding."
The people pillar was conceived from consultations revealing that community members are seeking a workplace that is inclusive, equitable and diverse as well as one that fosters engagement, trust, creativity and respect.
"Two terms that I saw threaded through all three pillars were 'proactive' and 'trust.' These can be included in meaningful ways across tri-campus to ensure we are able to support departments and academic areas to move forward," said Varsha Patel, assistant dean, student success, UTSC.
Unified, coordinated efforts are needed to increase communication between ITS and the U of T community, which is why "collaboration" is an important pillar in the plan. "It's not really about just the immediate team you work with, it's not even about the department you work in, in the end, we all play for team U of T," said Zoran Piljevic, director, Information & Instructional Technology Services, UTSC.
Another significant outcome of the consultation sessions was the creation of more than 70 digital moments, which are real-life anecdotes that describe the needs of the community and the potential for technology to enhance and enrich our experiences. (Read more about the IT@UofT digital moments here).
"The level of engagement for tri-campus partners has been fantastic, particularly the digital moments," said Luke Barber​, director, University of Toronto Mississauga (UTM), Information & Instructional Technology Services​. "I don't think there is anyone on our team at UTM I&ITS who doesn't feel as though they've had a voice in the process."​
"If we're more transparent, we can build trust and we can do a lot more than we can do individually," said Wandschneider. The sum of the whole is much more than the sum of the individual parts."
In the coming months, teams within ITS will work to implement the IT@UofT plan into their daily work lives by developing unit plans and goals. In addition, divisions are encouraged to adopt the framework to align their local planning with the University as a whole. Along the way, ITS will provide regular communication and progress updates to the community.
If you have questions or feedback about the IT@UofT Strategic Plan, please contact: cio.office@utoronto.ca.