Information Technology Services (ITS)
LinkedIn Learning: high-quality courses led by experts
Published on: August 24, 2021
University of Toronto (U of T) staff and instructors can access LinkedIn Learning, an online learning resource with high-quality instructional videos taught by recognized experts.
Using your UTORid to log in, you can choose from thousands of courses and tutorial videos that cover a wide range of topics, including business, leadership, professional skills, information technology, software and design. Completed courses can be added to your learning history in the SuccessFactors learning management system.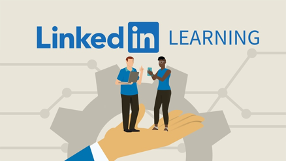 Frequently Asked Questions
How do I access LinkedIn Learning courses?

Direct access to LinkedIn Learning courses is available via the U of T web login to LinkedIn Learning.

How can I get the most from LinkedIn Learning?

To learn how navigate through LinkedIn Learning, take a few minutes to review the How to Use LinkedIn Learning Guide.

What are some features of LinkedIn Learning?

U of T staff and instructors will be able to benefit from the following features available on LinkedIn Learning:

Unlimited access to courses on a wide variety of technologies and disciplines
Up-to-date content to keep skills current and learn new skills while working remotely
Exercises and activities to follow along while learning
Mobile application access
Optional integration with an existing LinkedIn Learning account and/or U of T professional learning records (SuccessFactors)

What are some example topics I can explore?

There are more than 16,000 courses available through LinkedIn Learning. Examples include:

Office365 essential training
WordPress essential training
Time management fundamentals
Structuring an effective presentation
Leadership
Equity, diversity and inclusion
Project management
Enhancing team innovation

There is also a selection of recommended courses in the "Learning, Leadership and Culture" catalogue that align to U of T's organizational competencies.

Where can I get support?

If you need assistance using this resource, please visit the LinkedIn Learning help site or contact lms.help@utoronto.ca.
---
Please note:
HR and Equity have procured a limited institutional licence to meet the learning needs of staff* and instructors* through to September 2024.
*Continuing appointment is required.