Information Technology Services (ITS)
IT@UofT Tech Talk looks into the future of digital learning at U of T
Published on: February 18, 2022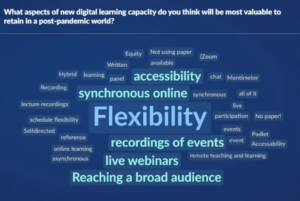 On Jan. 19, 190 staff and faculty from across the University of Toronto (U of T) tri-campus community attended the virtual IT@UofT Tech Talk. This event offered a space for the University's IT community to receive updates and ask questions about current solutions and future goals for IT@UofT.
Moderated by Laurie Harrison, Director, Digital Learning Innovation, three U of T leaders shared insights on leveraging new digital learning strategies, analytic data access and educational technology platforms to enhance programs and student experience.
Susan McCahan – Vice Provost, Innovations in Undergraduate Education
Alison Gibbs – Director, Centre for Teaching Support and Innovation (CTSI)
Avi Hyman – Director, Academic and Collaborative Technology (ACT)
With COVID-19 online experiences reshaping our approach to working, teaching and learning, these panelists brought some insight into how U of T is adapting.
Long term impacts of digital teaching and learning
Susan McCahan kicked off the event with insights on how instructors have had to design and redesign their teaching methods to achieve their courses' core learning outcomes while supporting students in a variety of learning modalities. As a result, instructors are now more digitally literate and have developed assets that they will likely use in the future design of their courses, online or not.
Susan explained that we will continue to see an acceleration in blending virtual and physical classrooms post-pandemic in the interest of intentional design for flexibility. Instructors are recognizing the value of flexibility because it allows them to handle routine disruptions, and divisions can allow all types of students to engage with classes through flexible modes.
Looking toward U of T's future, Susan mentioned that U of T is currently thinking about adaptation to the endemic and the protocols and playbooks that will allow us to manage intermittent crisis periods in the future.
The academic toolbox
Avi Hyman provided insight into the operational aspects of U of T's academic toolbox. He explained that there are a variety of advisory committees that review the toolbox annually and make recommendations for improvement to the steering committee, who then review from an institutional priorities' perspective before implementation.
The prioritization of ideas is very important in the decision-making process for selected projects. Those decisions are made based on priorities of various people and groups including the President, CTSI, the Vice Provost and the Chief Information Officer. Once an idea is approved, there are various phases of adoption integration that include security reviews, testing, training and developing support documentation.
Currently, in addition to exploring a variety of new tools to update the toolbox, the University is working towards securing a Zoom integration with Quercus.
Learning analytics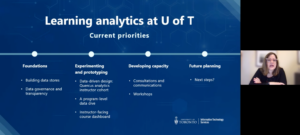 Alison Gibbs gave the audience an introduction to how the University is advancing the use of learning analytics. She explained that the key to optimizing and improving students' learning is to observe the data from their interactions with digital tools. This helps us understand how to enable appropriate interventions and plan better environments to improve learning outcomes.
Currently, the learning analytics project team is building foundational elements that include data stores and data governance pieces to make sure we are being transparent and communicating how data are being used, who has access to what data and for how long.
They are also experimenting and prototyping with different projects, considering what they may be able to do at a program level and considering how we may be able to build a dashboard that will serve the interests and needs of all instructors at U of T.
Event feedback
Thank you to everyone who attended this event and provided feedback via the post-event survey. Results of this survey showed that 76 per cent of respondents were extremely or very satisfied with the experience and are highly interested in participating again in the future. We hope to see you back at the next IT@UofT Tech Talk.