Information Technology Services (ITS)
IT@UofT People — Niguel Pivott-Dyer
Published on: November 15, 2022
The backbone of any successful team is its hard-working people. The University of Toronto's Information Technology Services (ITS) unit is no exception. It is made up of a diverse range of people with an even greater diversity in their interests and talents.
In this segment, entitled "IT@UofT People," we will get to know our IT@UofT team across the tri-campus community and find out more about their hidden or not-so-hidden talents and/or pursuits outside of work.
————————

Name:
Niguel Pivott-Dyer
Department: EASI/Access control
Title: Access Control Fulfiller
How long have you worked at U of T?
I have worked at U of T for almost two years now. I started off as an in-class Dual Delivery Moderator at Rotman School of Business where I acted as the voice between virtual students and the professor in hybrid learning environments. I moved over to ITS in the EASI department a year later. In my current role in ITS, I am responsible for managing the access of ROSI and SAP AMS user accounts as well as ensuring individuals across the University have correct VPN access across the many systems that make up the digital landscape across the tri-campus ecosystem.
What is your secret or not-so-secret talent or hobby outside of work?
I have many hobbies but recently I have been focusing on cooking and baking.
How and why did you get involved in these hobbies?
I have loved cooking from a very early age. Since I am the oldest of four siblings, I was often tasked with preparing meals for everyone. As well, whenever my grandmother would visit, she would watch the Food TV network, which I also took a liking to.
As I got older, I began to see food as an art. The flavours are the paint, and the plate is the canvas. The same ingredients can be combined in many unique styles to create a variety of finished products.
I started baking more recently because I love cake, but the store-bought ones rarely satisfied my cravings.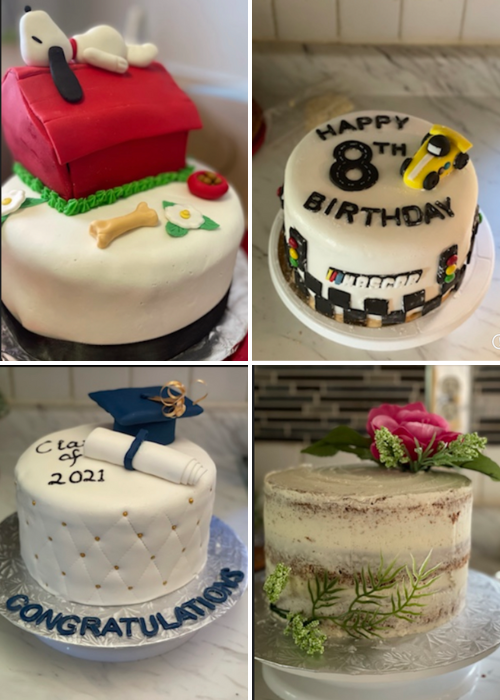 When/how did your interest in this area begin?
The main reason I started baking more is because my cousin needed a cake for her birthday party and the baker cancelled last minute. I thought I could do a respectable job, and everyone really enjoyed it. I started looking up videos on how to decorate and soon after became the go-to to cake person for my family and friends.
Who/what are your inspirations?
My inspirations are my late great-grandmother who had her own bakery in Trinidad & Tobago. She was self-made and her story is quite profound. From the 1950s to 70s, she delivered fresh baked goods all around the island.
Anything else you would like to add?
One day, I was not able to make a cake for my sister and she ended up doing it herself and turned out to be extremely talented at decorating cakes. She became much better than I ever was and started a business shortly after.