Information Technology Services (ITS)
IT@UofT 2021: a virtual meeting of (800+) minds
Published on: May 13, 2021
Exploring everything from bias in artificial intelligence to harnessing diverse talents in the workplace, the virtual IT@UofT 2021 conference had something for everyone on May 5 and 6.
Formerly known as TechKnowFile (TKF), the conference was rebranded this year to IT@UofT and also differed from its usual in-person format to a virtual one, due to the COVID-19 pandemic.
However, this didn't halt attendance: 824 University of Toronto (U of T) staff and faculty members from across the tri-campus community joined the event on the Hopin platform.
Staying true to the conference's theme of "People.Solutions.Collaboration" and tagline:
"a forum created for the community, by the community," it also featured a total of 107 speakers. Their presentations aligned with one of the conference's four streams: culture and core values, information security and privacy, instructional, academic and research-related technology and initiatives and administrative technology and initiatives.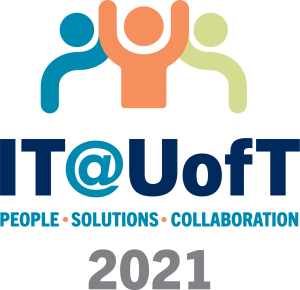 In addition to the more than 40 sessions, IT@UofT 2021 attendees also engaged in the Expo Hall with sponsors Aruba, Dell Technologies and Palo Alto. The event was also sponsored by Global USS.
Day one: highlights
The event kicked off on May 5 at 10 a.m. with opening remarks from conference co-chairs, Isaac Straley, Chief Information Security Officer (CISO), and Zoran Piljevic, Director, Information and Instructional Technology Services, University of Toronto Scarborough.
Next, nearly 700 people attended the 10:20 a.m. keynote speaker session "Reining in the tech: powerful technologies and society in the 21st century," presented by Gillian Hadfield, Director of the Schwartz Reisman Institute for Technology and Society, U of T.
"Tech decisions shape the very infrastructure of our lives," said Hadfield. "There's a significant way in which technology is writing the rules of everyday life. Just think about the amount of technology we use — to work, to make friends, to be with families… Building safe tech systems requires not only technical innovations, but also regulatory innovations. We have not imbued enough innovative thinking and design thinking into the creation of our rules. We need to be taking risks and experimenting."
The day ended with the "Broader public sector cyber security expert panel" discussion featuring cyber security experts, including Straley. The panel spoke about how the pandemic affected post-secondary institutions, how to improve digital resilience and cyber security careers.
Day two: highlights
On May 6, keynote speaker Jesse Hirsh, technology researcher, ethicist, public speaker, broadcaster and futurist, presented: "Participatory cyber security and inclusive computing" (sponsored by Abruba).
"We need to infuse diversity [into cyber security and computing], you need to include as many perspectives as possible," said Hirsh. "Rather than turning someone into an expert, we want to make expertise accessible so that people can turn to that expertise, use that expertise and leverage that expertise… Experts are overvaluing themselves and people are not valuing experts enough, that's the paradox."
Day two also featured the panel "Higher education Chief Information Officers (CIOs) and the pandemic," during which U of T CIO Bo Wandschneider posed various questions to his peers from across Canada. During the discussion, Wandschneider used Hopin's Slido feature to poll audience members on pandemic-related topics, such as how behaviours have changed, what people wished they'd done before the pandemic and how people feel about returning to work in person.
Ending the day on a high note was keynote speaker Tania DeSa, CEO of Desa Global Leadership Inc., who inspired the crowd with her energetic talk "The power of owning your value." DeSa shared personal examples of diversity in the workplace and how to discover and leverage your talents to get ahead.
Last but not least, contributing to the conference's success were the approximately 50 volunteers who assisted with moderating, help desk and audio-visual duties throughout the two days.
The IT@UofT conference planning committee looks forward to seeing everyone back again next year — hopefully in-person!
Video resources
There are three presentations that were recorded at IT@UofT 2021 and now available for viewing:
Reining in the tech: powerful technologies and society in the 21st century by Gillian Hadfield
Participatory cyber security and inclusive computing by Jesse Hirsh
What does IT@UofT mean to you?
Prize winners
Congratulations to IT@UofT 2021 raffle prize winners! They were:
Amazon gift card:
Hitesh Prabhakar
Haroon Rafique
Tony Di Felice
Maryam Shafiei
Dell Latitude 5320 2-in-1 laptop:
Dell UltraSharp 24 monitor:
USS Global headset:
Gallery