Information Technology Services (ITS)
ITS your workplace environment web page is now available
Published on: July 21, 2021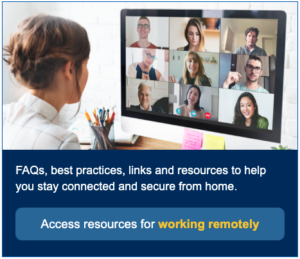 The Information Technology Services (ITS) community is preparing for the return to in-person learning, working and other activities in fall 2021, while also continuing to leverage the online innovations developed over the past year and a half.
To help University of Toronto (U of T) staff navigate evolving workplace environments, we have launched the ITS your workplace environment web page. Its two subpages, Working on campus and Working remotely, host frequently asked questions (FAQs), best practices and U of T resources to help you navigate your specific workplace environment. U of T staff are encouraged to visit these pages to stay on top of the tools, technologies and resources available to help with remote, on campus or hybrid team working environments.
Please note these pages are a work in progress and content is updated frequently. Check back often and contact its.myworkplace@utoronto.ca with any questions or to contribute information and resources.
Above all else, the health and safety of U of T staff, students and faculty remain a top priority. Review the University's updates for the latest information (news and FAQ) on the safe and gradual return to campus in the future.