Information Technology Services (ITS)
ITS Private Cloud
Please refer to the following document (UTOR login required to access) which provides detailed information on the ITS data centre and the server and storage architecture which underpin the ITS Private Cloud service.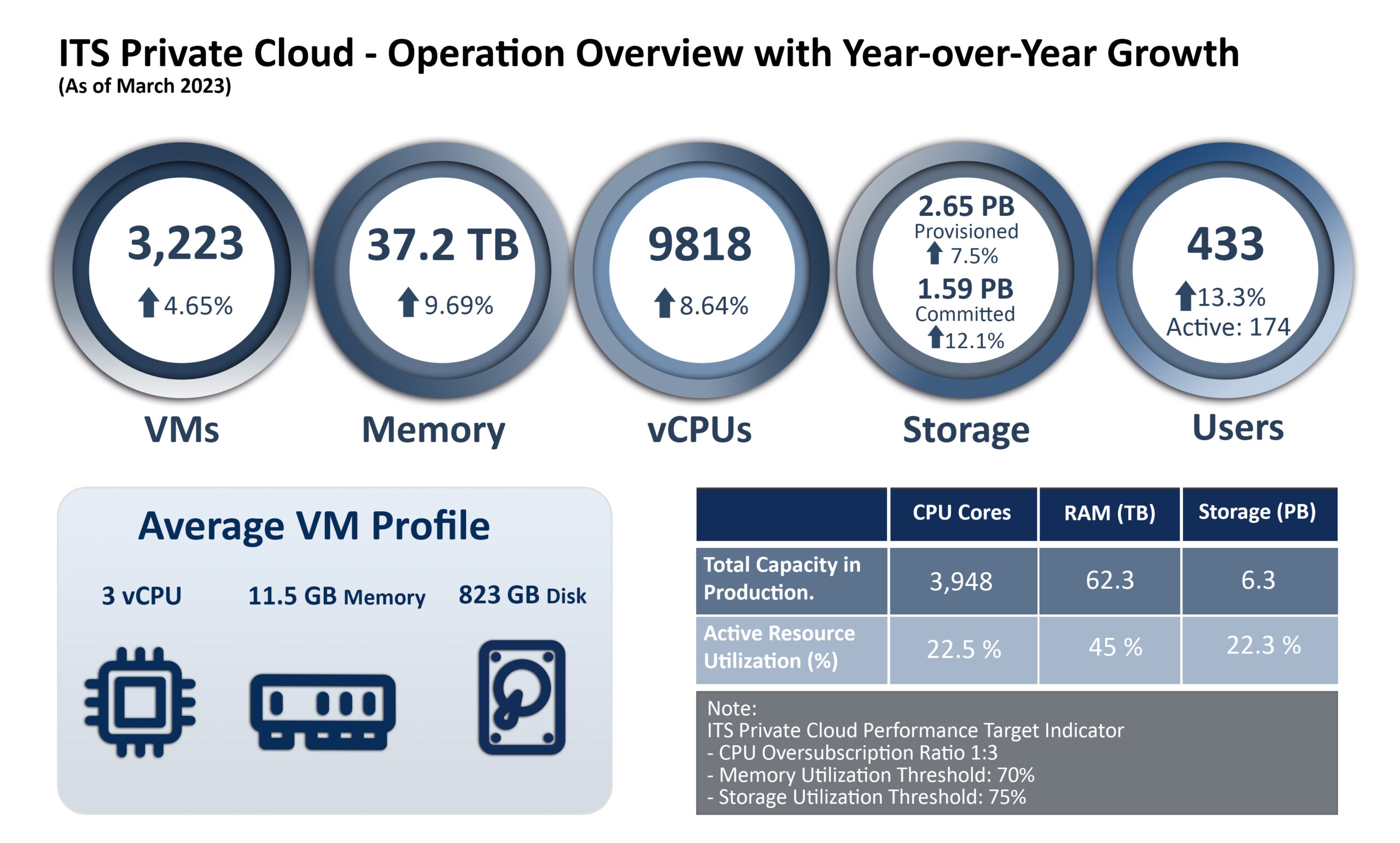 Why use the ITS Private Cloud?
The ITS Private Cloud service is designed to be suitable for all levels of use – from mission critical applications to development or testing spaces. The IT infrastructure is fully redundant and is based on Cisco UCS, Cisco Nexus routing and switching, and Nexenta Software defined storage. The virtualization software used is VMware Enterprise Plus.  The virtual hosting service is housed in a Tier II data centre with redundant site infrastructure capacity components. The data centre is physically secure and has redundancy both in the physical infrastructure (redundant cooling, UPS and diesel generator, Novec 1230 gas fire suppression) as well as in the IT infrastructure (network, compute, and storage). Clients of the ITS Private Cloud service can expect a high standard of service availability and delivery
Pay only for what you need, when you need it.
All too often, you buy far more server than you actually need in order to meet peak loads at certain times of the year or to accommodate future expansion and growth. The rest of the time, the server may only be using a small fraction of its available capacity while still using the same amount of power. When you multiply that wasted capacity and energy consumption across multiple physical servers it adds up to a very inefficient use of resources and capital.
With virtual server hosting, you pay only for the capacity you need and you can add to that capacity incrementally when the need arises. Because multiple virtual machines can be running on a single server, it results in a more efficient use of a shared pool of physical resources. Nevertheless, we are able to guarantee the CPU, RAM and disk capacity that your server requires for those peak loads.
We are also able to rent you a VM server for short periods of time for research projects, testing new versions of software, etc, saving you from having to find a physical server to host your application.
Because VMware abstracts the hardware layer from the OS layer, you can set up identical production and testing instances, reducing potential errors or conflicts resulting from differences in hardware components between servers.
High availability
Our virtualization environment is designed with high-availability and scalability in mind. Our server cluster will grow to meet demand and provides redundancy and high availability, allowing us to migrate your VM from one physical host to another without shutting it down. This reduces downtime due to hardware failure or scheduled maintenance. Similarly, our SAN (Storage Area Network) infrastructure provides resiliency against hard drive failures and can be scaled up as storage demands increase. Our SAN and virtual server infrastructure is mirrored to our remote disaster recovery site to protect against data loss and to facilitate restoration of service in the event of a catastrophic failure in the primary St. George Campus data centre. Disaster recovery site replication is included in the monthly hosting price.
Pricing (New rates effective May 1, 2023)
Resources are available to meet your specific needs and can be added incrementally according to the pricing schedule below:
Configuration
Description
Current Price
(unchanged since 2017)
May 1, 2023
May 1, 2024
May 1, 2025
Processing
vCPU
$75
$75
$78
$82.5
Memory
vRAM (per GB)
$75
$75
$78
$82.5
Storage Tier 1
HDD (per GB)
$0.10
$0.15
$0.20
$0.25
Storage Tier 2*
SSD (per GB)
$0.10
$0.30
$0.45
$0.65
Storage Tier 3
iSCSI (per GB)
$0.10
$0.75
$0.80
$0.80
Please note: Cost of operating system licensing & 3rd party applications not included in the price.
* If disk performance is expected to be a bottleneck for your application, Tier 2 enterprise-grade SSD storage is available.
Free trial period
When you sign up for a hosting contract, you have 7 days to decide if you are satisfied with the service. At the end of the 7-day trial period, if you do not wish to continue having your VM hosted you may cancel your contract without penalty.
Interested? Contact us.