Information Technology Services (ITS)
ITS celebrates 2021 with music, trivia and special treats
Published on: January 12, 2022
To celebrate another year of outstanding people, strategic collaboration and effective solutions, Information Technology Services (ITS) held its annual holiday celebration. While the main event was held virtually for the second year in a row, many ITS staff were able to connect in-person for an optional gift box pickup on campus.
From Dec. 13 – 15, 110 ITS staff members stopped by Chesnut Residence & Conference Centre to pick up their custom gift bags, filled with charcuterie and dessert boxes. It was fantastic to see so many (masked) faces in person, have face-to-face chats and even take photos together in the ITS photo booth!
Congratulations to Darshan Harrinanan, who was randomly selected in our holiday gift box draw to win a $100, U of T Bookstore gift card.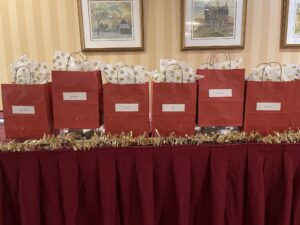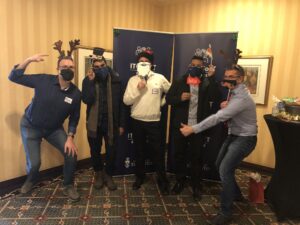 Held on Dec. 16, more than 150 ITS staff members gathered on Microsoft Teams for the virtual holiday celebration. The interactive event included an ITS 2021 holiday video presentation, a livestream of holiday music and a few rounds of trivia.
To start off the event, we looked back on the many milestones we reached together over the past year with a video presentation.
After some words of appreciation from our chief information officer, Bo Wandscheider, two students from the University of Toronto's (U of T) faculty of music, Cindy Joung (vocals) and Jungahn Yoo (guitar), gave a spectacular virtual performance, covering a variety of holiday songs. As ITS staff watched the performance, they were encouraged to enjoy the holiday treats they picked up on campus earlier that week.
Sparking some friendly competition, attendees also participated in three rounds of Kahoot! trivia, ranging in topics from U of T and ITS history, technology facts and more.
Congratulations to these trivia winners who 'went home' with gift cards to the U of T Bookstore and Amazon.ca!
Gary Raposo – $200 U of T Bookstore gift card
Isaac Straley – $200 U of T Bookstore gift card
Lloyd Kwong – $100 U of T Bookstore gift card
Avi Hyman – $100 U of T Bookstore gift card
Armin Krauss – $50 Amazon gift card
Tony Difelice – $50 Amazon gift card
Michael O'Cleirigh – $25 Amazon gift card
Justin Fletcher – $25 Amazon gift card
We were pleased to hear that a vast majority of attendees were very satisfied with this year's holiday activities and virtual event. We can't wait to see what the new year will bring!