Information Technology Services (ITS)
Introducing IT@UofT 2021 conference co-chairs
Published on: February 18, 2021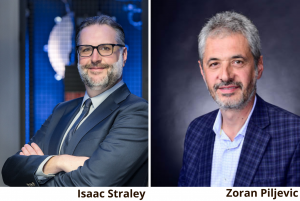 Introducing the IT@UofT 2021 conference co-chairs: Isaac Straley, Chief Information Security Officer (CISO), and Zoran Piljevic, Director, Information and Instructional Technology Services (IITS), University of Toronto Scarborough (UTSC).
This virtual tri-campus conference — hosted by Information Technology Services (ITS) — takes place on May 5 and 6.
Isaac Straley
CISO, U of T, St. George
Isaac has held U of T's inaugural CISO role since 2018. His leadership provides direction over the Information Security program, ensuring that the University's networks, systems and information are protected and meeting all regulatory and policy requirements. He is also responsible for identifying, evaluating and reporting information security risks to the University's senior administrative team. Prior to joining U of T, Isaac held the dual post of both CISO and privacy officer at the University of California for 13 years. He is an alum of California State University, Long Beach and holds the Certified Information Systems Security Professional (CISSP) designation.
Zoran Piljevic
Director, IITS, UTSC
As Director of IITS, Zoran oversees all IT infrastructure, services and information security for  UTSC. The resources, services and information provided by the IITS department impact the more than 13,000 students and collective 650 staff/faculty who study, work and teach at this campus. Zoran holds a Master of Arts and Master of Information from U of T and has more than 20 years of experience in various IT roles. Recently, he has been focusing on the implementation of continual service improvement methodology. In both 2011 and 2016, he received U of T's Excellence Through Innovation Award (ETIA).
About IT@UofT 2021
Formerly known as TechKnowFile (TKF), this virtual two-day conference celebrates the diverse information technology community at the University of Toronto (U of T). The name and in-person format may have changed, but it remains the same preeminent conference for people to share ideas, learn about information technology innovations and make lasting connections with colleagues across the tri-campus community.
Stay tuned to this website for more news on the IT@UofT 2021 conference.