Information Technology Services (ITS)
Enterprise Skills Initiative offers hands-on learning for U of T staff
Published on: October 24, 2022
The University of Toronto is partnering with Microsoft to offer U of T staff access to Enterprise Skills Initiative programs. ESI provides hands-on training for building technical skills and knowledge of Microsoft technologies.
These programs were launched to as a pilot project in the fall of 2022. Since then, there have been almost 400 IT@UofT staff active in the ESI portal, with 135 enrolled in Microsoft Virtual Training days and 33 Microsoft certifications completed.
All U of T staff are encouraged to log in to the portal to explore skill areas that interest them or appear relevant to their roles.
This partnership offers interactive courses, role-based training curriculums and Microsoft certifications in an accessible platform including:
Microsoft Learn – Explore a topic in-depth through guided learning paths and interactive, hands-on modules.
Microsoft Training Days – Sign up for digital events with live moderators supporting attendee questions.
Microsoft Certifications – Advance your career, earn recognition and validate your technical knowledge through accredited Microsoft certifications. (Available at 50 per cent discount)
Exam Preparation – Prepare for Microsoft certification exams with sessions that provide practical details and guidance.
These programs build on U of T's existing professional development offerings from the School of Continuing Studies and LinkedIn Learning.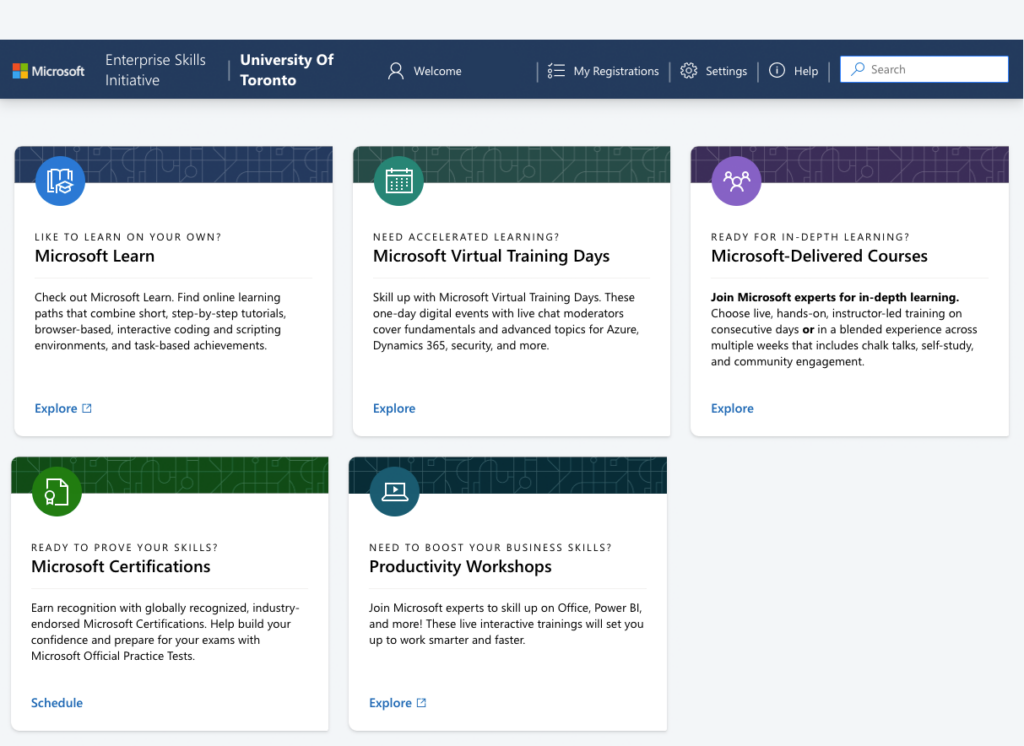 "We are pleased to be able to offer broader access to Microsoft resources and professional development events to meet the transforming needs of the IT@UofT community," says Laurie Harrison, Director, Digital Learning Innovation.
Information technology professionals from across the University are invited to browse the platform, discuss options with your manager and explore learning paths: https://esi.microsoft.com/.
Read about the certification fee waiver voucher process to learn how to get subsidies for certification exams. In addition to the 50 per cent discount offered through the ESI program, ITS will provide reimbursement of the remainder of the certification fee for ITS staff reporting to the CIO. Please provide receipts to cio.office@utoronto.ca to initiate the process.
The ESI program will remain available until further notice.